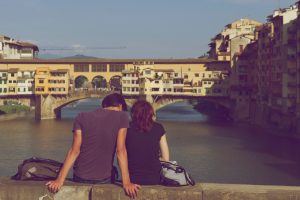 Believe it or not, I was once a young woman with big ambitions and dreams. With hard work and dedication, I've accomplished many of them. I will always remember what it felt like at the beginning of my life and career, on the precipice of my future. Young people today have more opportunities than they have ever had, while also contending with new and complex challenges of 21st century life.
Our parents teach us that in America, if you can dream it, you can build it; if you work hard, the world is your oyster. Our parents also teach us that love and family are the bedrock of the most fulfilling life. It can take a while for each of us to find out true partners in life, but when we do, it feels as if the world is fuller, more complete; you experience the world through a new depth and intensity. It is the most wonderful feeling in the world. When you find your life partner, often the focus is on living in the present, not necessarily planning for the future.
But as we all know, true love is tempered by daily life and responsibilities. It is because of this ultimate truism about solid, loving relationships that I believe young and engaged couples, not just married couples, should be thinking about how they will plan their joint estate once they are married. It is never too early to think about estate planning, and though it is undoubtedly far from the minds of many young couples, I believe preliminary estate planning should be the new norm in the progression of relationships.
Many times, engaged couples will enter into pre-nuptial agreements, which can be important for certain couples. But it is important to remember that pre-nuptial agreements govern assets in the event of divorce, but do not provide a mechanism to govern the fate of assets in the event of a disability/incapacity or death of a partner. As such, pre-nuptial agreements should not be seen as a substitute for tangible estate plans, but a complement to them. Pre-nups aside, it should be par for the course for engaged and newlywed couples to openly discuss and plan for the long-term future of their joint estate at the outset.
The bottom line, of course, is that long-term, committed relationships are wonderful, but never easy. Life always gets in the way, placing pressures and burdens on a couple's life together. Often, these pressures build up over time. An easy, beneficial way to remove one stress-inducing variable from the mix is for new couples (of any age) to plan their joint estate as early as possible!