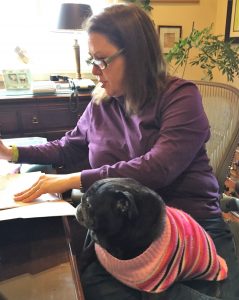 Just over ten years ago, in December 2006, I received a little bundle of joy. She was the tiniest thing, a pug with shiny black fur, dark eyes and a little button nose – my sweet and sassy princess, Sweet Pea. When little "Pea" joined our family, she instantly stole the spotlight, and my heart. I have always loved my critters; horses, dogs, cats, even a raccoon – I've been a mama to them all. For me, as for so many people, my pets are not just animals I own, they are part of my family, share my home, and I care for them as I would any loved one.
As an animal lover and an attorney practicing estate and probate law, the well-being of my four-legged friends is often something I think about. When it comes to planning your estate, naturally every individual's needs and wishes will be unique, given the limitless variety of family situations, nature of financial and tangible assets, health and career considerations, and more. But too often, providing for the welfare of one's pets is given short shrift by individuals, estate attorneys, and the law.
Under Michigan law, pets are still viewed as property. In terms of estate planning, this means that Sweet Pea is treated no differently by the law than my checking account or winter coat. For many people, including myself, "property" is definitely not how I think about my animals – especially my special girl, Pea. Because Michigan law fails to distinguish pets from other forms of personal property, traditionally, if someone wanted to include provisions for the care of their animal friends, they would do so in a will. But in my experience, providing for one's pet in a will is often insufficient to adequately ensure their future welfare should something happen to you. There are multiple problems with this approach. For one, wills provide protection for assets after death, and not before. As death can often be preceded by a prolonged period of medical incapacity or disability (the average being 8 months), pets are without legal protection during extended disability. The benefit of planning one's estate is to prepare for any eventuality and leave nothing to chance. So while it may be possible in cases of incapacity or death that a relative or friend will step in to care for your beloved pet, it is inadvisable to leave the fate of your furry or feathered friends to chance. It is for this reason that I advise my clients to create trusts to protect their pets.
While the idea may seem silly or grandiose, creating a trust is the surest way for you to have a say in your pet's future, should something happen to you, and ensure your wishes are protected by the law. Not only will a trust provide for the possibility of transfer of ownership of your pet and continuity of care, but it can help ease the burden on whomever you choose to inherit your animal by providing funds toward their future care. Indeed, this past year, Americans spent a record 62 billion dollars on pets – not an insignificant cost for families. Covering all the legal bases for your pet is especially important if your pet has a long lifespan – such as tortoises, parrots, and reptile species – or whose care is particularly involved and high-maintenance, such as horses.
As someone who cares deeply about her beloved animals, I always do my utmost to help my clients find the best solutions for theirs. Nothing makes me happier than helping a client feel completely at ease knowing that should something happen to them, their pets are protected.